AntiguaRecon: Antigua's Next Cybersecurity Warriors
Speakers
The event was hosted by infosec live, and we could watch Simon L and Adam Dennis discuss AntiguaRecon.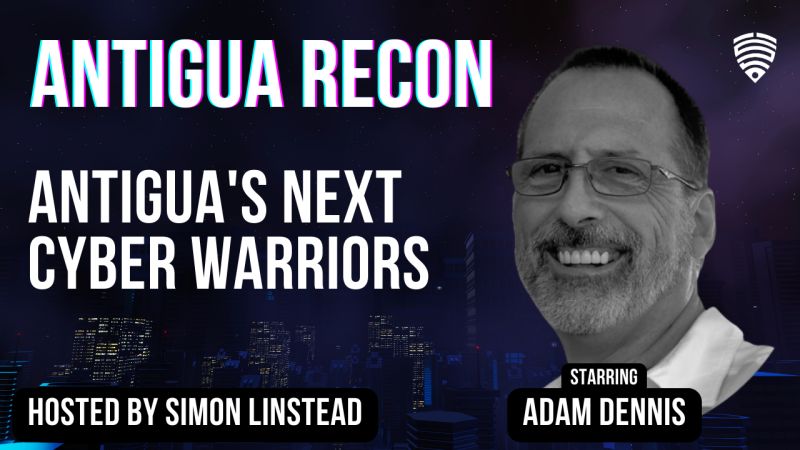 About Adam Dennis:
For the past 27 years, Adam has managed software teams. Currently, Adam manages his US software company remotely. As a response to the lack of opportunities for young people in Antigua, Adam launched AntiguaRecon early last year to develop a cadre of cyber security professionals. The three main goals of this program is –
Training ethical hackers with specialisation in web attacks, simulated phishing, and agile scrum project management skills.
Building a group of professionals over time, helping the next class succeed after each graduating class.
Offer cybersecurity services in 2023 so companies can fund its training program and students can gain real-world experience.
As Adam described his journey, he said, "If I have something I want to do, I just say okay, what do I need to learn, and then I just do it! "
AntiguaRecon: how did it begin?
Adam has always wanted to help develop secure software. The founder of Island Academy, Antigua, helped Adam start this program. Aside from improving its technological offerings, Island Academy also wanted to be able to serve the community more effectively. As cybersecurity was the least pursued career and there were not enough people for the positions, the area to be covered in the program was clear; it needed to be cybersecurity, hence raising funds and launching in January 2022.
Structure
There is a clear structure to the program. As part of the program, students will develop a better understanding of the security space and graduate with a sense of the importance of perpetual learning and taking a scientific approach to their own advancement.
The program also encourages seniors who graduated from the previous year to assist junior students by answering most of their questions. Their philosophy is, "You don't get to ask and have us tell you without doing your research first."
Mentors
Despite having mentors to teach the students, AntiguaRecon is actively seeking mentors to join them and be a part of their program. Most of the mentorship they are seeking is in the social engineering field-
Simulated phishing, especially for those with experience in Gophish, red teaming, and web attacks.
How to improve your business?
Logos don't sell. Trust has to be built in people for them to trust you.
Talk with them about how you can make them more secure instead of selling them your product. Brands are destroyed when people sell themselves too easily!
How to help AntiguaRecon?
Adam and the team are looking for mentors with experience in the areas mentioned above. They are also seeking partnerships with companies to give their students the opportunity to work in the real world, which will increase their visibility and open up more job opportunities in Antigua. Finally, they need financial assistance to generate some capital to cover all certification needs.
The event covered such a wide range of topics that it will make you think of ways to serve the community by supporting programs like AntiguaRecon. The entire event can be viewed on Infosec live's YouTube channel or LinkedIn. All the links are mentioned below.
It would be our pleasure to save you time. Let us know if you need a summary of any upcoming events, and we will try our best to accommodate you.
Source